Annual Firemen's Dance
Jan 30, 2023
Almost as old as the KVFD is their annual dance. As the story goes, the first dance was held in the spring of 1892 and there has been a dance every year since then. For a few years, during the 60's and 70's, there was a dance at the Beaver Building (later purchased by the city of Wisconsin Dells). The name was then changed to the Community Building. A second dance was held at the "Warf" a distance of about four blocks from the Beaver Building. Seven taverns on the route between the two dances made for an interesting, if not sometimes short evening, for some of the dance goers. Each year the dance committee decides where to have the event, either at the Fire Station or at another location.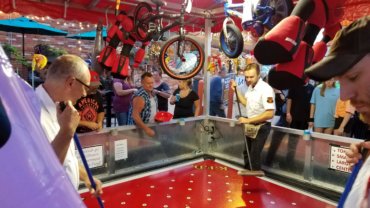 Wo-Zha-Wa Fall Festival
Always the second weekend after Labor Day weekend. Firemen's Beer Stand, Token Toss and Harley Raffle Sales. On Oak Street, Downtown Wisconsin Dells. For more about the Festival visit: http://www.wozhawa.com/…
Read more
»

Fire Prevention Week Open House
10/08/2022
KIlbourn Fire Department will hold an open house on October 8th, from Noon to 3pm.  Everyone is welcome to come and learn about our fire trucks and equipment, fire prevention including smoke and carbon monoxide alarms, escape planning, fire extinguisher operation and more.
Read more
»